These key email marketing trends are poised to shape email marketing strategy in 2021. We've identified the tactics, tools, and technologies that will work and those that are becoming less effective.   
How Is Email Marketing Used?  
Nine out of every ten marketers use 

email

 for organic content distribution. 

 

At least 80% of small and medium-sized businesses use email for customer acquisition and customer retention.

 

The primary objectives of email campaigns are sales (62%), engagement (50%), brand awareness (47%), and building loyalty (45%).

 

60% of business-to-consumer (B2C) organizations utilize email for customer engagement. 

 
Are Your Emails Mobile-Friendly?  
Almost 61% of 

marketing emails

 are opened on mobile devices.

 

 

45% of brands use mobile-aware design, 44% use desktop-centric design, and 11% use responsive design. 

 
Mobile email clicks have $0.40 average revenue, four times higher than desktop email clicks. 

 

55% of smartphone users have completed a purchase due to a mobile promotional email.  

 
EMAIL ROI?   
Emails bring a return on investment of $51 and $42 for every dollar spent, according to 

Super Office

 and 

Litmus study

, respectively.

 

At least 70% of marketers agree that email is the top digital channel for return on investment, according to 

Econsultancy

. 

 

There is an average $39 billion in retail sales generated through email marketing. 

 

Almost 60% of 

SaleCycle

 study participants admit that 

marketing emails

 influence their purchase decisions. 

 
Email Subject Line Statistics Every Marketer Must Know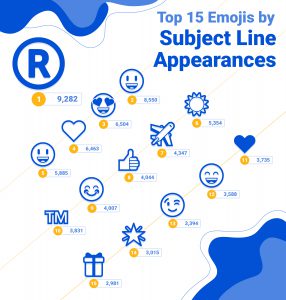 Catchy subject lines

 

drive 33% of recipients to open emails.

 

 
69% of people will report an email as spam according to the subject line. 

 

Personalized email subject lines are 26% more likely to get opened. 

 

Using the recipient's name in the email subject lines will result in a 21

% open rate.

 

 

There is 22% higher open rate for email subject lines tapping on Fear of Missing Out (FOMO) by creating a sense of urgency.

 

Incorporating the word 

"free"

 in the subject line increases the likelihood of getting the email opened by 10%.

 

 
Including the word "newsletter" and "you" led to an 18% and 5% decrease in the open rates, respectively. 

 

Including emojis in subject lines increased the open rates by 1,071% on Android and 662% on iOS. 

 

Triggered email messages with emojis have increased by more than 7,000%. 

 

Use of emojis in mobile messages and emails has increased by 775% annually.

 
Why List Segmentation Matters In Email Marketing  
There is 

a revenue increase of 760% in segmented 

email campaigns

. 

 

Marketing automation is the list segmentation feature that is very useful for 78% of email marketers.

 

Segmented email campaigns have a 94% open rate and 38% click-through rate when compared with non-segmented emails. 

 
Email personalization generates $20 in ROI for every $1 investment. 

 

50% of companies rely on personalized email marketing to increase user engagement.

 
BEST TIME TO SEND EMAILS 
Sending emails on Tuesdays

 gets the highest open rate and click-through rate.

 

Peak open rate of emails

 among recipients is at 10 AM, 1 PM, and 6 PM.

 

B2B emails

 are best sent mid-week around 10 AM.

 

Weekends are the 

worst days to send emails

. 

 
Invest to grow in email marketing this 2021. Get comprehensive email analysis to improve business results. Request for FREE DEMO.